June 12: Why was the Dick Tracy movie so hyped?
Plus why Roxette wasn't the next ABBA, Speed 2 killing the franchise, Toy Story Reebok Pumps, and more
---
The Retro • Modern perspectives on 80s & 90s nostalgia
June 12-18, 2020 • Issue -1
---
⚠️ Let's make this newsletter go from weekly to daily. At 5,000 subscribers, it will go five days a week!
Please pass it along to a friend who would enjoy the content. Thank you!⚠️
---
This week in nostalgic history
June 12th
29 years ago, on June 12, 1991 - The Chicago Bulls won their first NBA title, defeating the Los Angeles Lakers four games to one.
There's been a big resurgence of interest in the Bulls lately with ESPN airing The Last Dance documentary to fill a large portion of the sports void during the pandemic. The Chicago Bulls dynasty began here, as this win ended both the Detroit Pistons Bad Boys era and the Los Angeles Lakers Showtime era. (And, in a way, the Boston Celtics Bird era, the Golden State Warriors Run TMC era, and the Charlotte Hornets "Is it possible the Mike Gminski is our best player?" era.)

The Bulls would win two more titles in a row… then Jordan would take a few years off due to some combination of double secret probation over gambling and an insatiable desire to play a sport he was exponentially worse at… and then, when Jordan returned, the Bulls would win another title.

The franchise remains undefeated in the NBA Finals, a perfect 6-0. They never went before Jordan. Then never went after Jordan. But they always won when he was there.
Also on June 12th: Raiders of the Lost Ark hit theaters (1981)… Ronald Reagan gave his "Mr. Gorbachev, tear down this wall" speech (1987)… Hulk Hogan's movie No Holds Barred hit theaters (1989)… so did Dead Poets Society, less notably (1989)… Final Fantasy debuted on NES (1990)… Mariah Carey's self-titled debut album was released (1990)… O.J. Simpson (allegedly, but, well, you know) murdered his ex-wife Nicole Brown Simpson and her friend Ron Goldman (1994)… MLB's first interleague game took place (1997)… Can't Hardly Wait hit theaters (1998)… Courteney Cox married David Arquette (1999).
June 13th
23 years ago, on June 13, 1997 - Speed 2: Cruise Control hit theaters.
It's hard to imagine what the Speed franchise would've held if Speed 2: Cruise Control hadn't tanked the franchise. A runaway train? A rogue hot air balloon with a nuke inside? A rocket ship out of control? (Actually, come to think of it, Sandra Bullock did kinda make that movie.)

But without Keanu Reeves, Dennis Hopper, or the madcap insanity of the first movie, this marked the end of the series. The Speed franchise was unable to overcome an uninspired second effort missing its lead character; a feat that the Fast and Furious franchise managed to pull off about a decade later.

I guess in 1997, this just wasn't the movie featuring a cruise ship that people wanted to go to the theaters to see.
Also on June 13th: Rodney Dangerfield's fantastic movie Back to School triple lindy'd into theaters (1986)… Paula Abdul's album Forever Your Girl, featuring four #1 singles, was released (1988)… Hulk Hogan wrestled his last match for WWF before jumping to WCW, losing to Yokozuna at King of the Ring (1993)… Exxon was found liable for the Exxon Valdez crash (1994)… Alanis Morissette's breakthrough album Jagged Little Pill was released (1995)… Disney's Hercules hit theaters (1997).
June 14th
31 years ago, on June 14, 1989 - Zsa Zsa Gabor was arrested for slapping a Beverly Hills police officer during a traffic stop.
I'm not sure I can explain Zsa Zsa Gabor, as I was too young to really understand the nuances of '80s-era "celebrities who are celebrities because they're celebrities." I do know that Zsa Zsa was the spiritual ancestor of Paris Hilton, then Kim Kardashian, and then more or less every Instagram influencer today.

Imagine a kid born in 2015 writing a newsletter in 2055 trying to explain why an Instagram influencer was famous. That's me right now trying to explain Zsa Zsa Gabor.
Also on June 14th: The groundbreaking for the world's largest shopping mall, Mall of America, was held in Minnesota (1989)… the Detroit Pistons won their second consecutive NBA title (1990)… Robin Hood: Prince of Thieves hit theaters (1991)… Ruth Bader Ginsburg was nominated for the Supreme Court by President Clinton (1993)… the New York Rangers won their first Stanley Cup in 54 years (1994)… Michael Jacksonn and his wife, Lisa Marie Presley, had a live televised interview with Diane Sawyer (1995)… The Cable Guy hit theaters (1996)… Destiny's Child's single Bills, Bills, Bills was released.
June 15th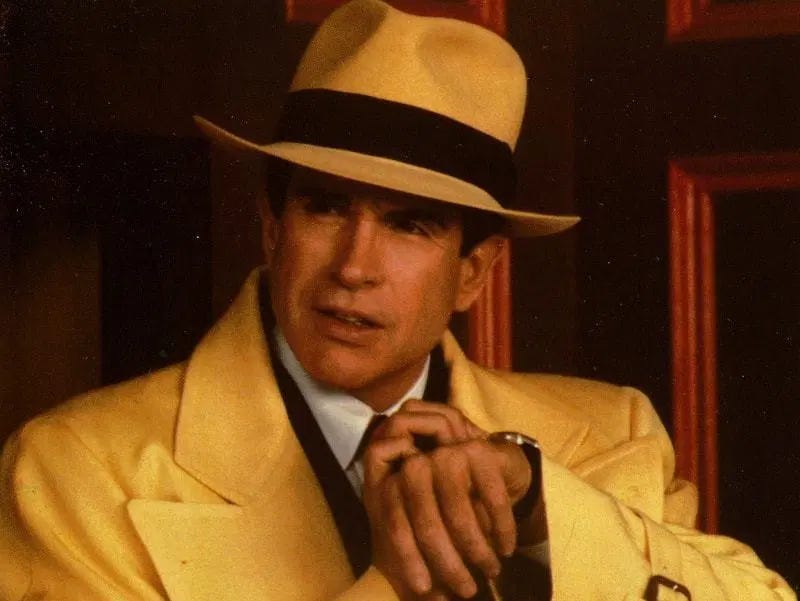 30 years ago, on June 15, 1990 - Dick Tracy hit theaters.
Going into the summer of 1990, Dick Tracy had all the hype. It was the movie that got the coveted McDonald's tie-in. It had a NES game coming out. Every kid, was wearing the (admittedly striking) t-shirts.

It was an odd fit. Little about Dick Tracy screamed "THE movie of the summer," especially with kids. It starred Warren Beatty, an actor more or less unknown to those kids wearing the t-shirts. It was based on intellectual property that somehow meant even less, a comic strip whose prime arrived decades earlier. The titular character wasn't a superhero, he was a noir-era detective whose signature weapon was a watch with a phone built in. (Now we all have watches with phones built in and more or less never use them to make calls.)

So why DID Dick Tracy receive so much hype? (Hype it really could never live up to. And didn't.)

Well… as Homer Simpson once said, it's because of the two sweetest words in the English language. De-fault.

The previous summer saw Batman become a runaway hit with a dark, gothic aesthetic, superpower-free superhero, and, perhaps most important, PG-13 rating. That PG-13 rating allowed Batman to rake in both box office and merchandising dollars.

The summer movie slate in 1990 lacked that obvious tentpole PG-13 hit. Other, worse candidates were Back to the Future Part III, Days of Thunder, Ghost, and Darkman. And that's pretty much it.

Dick Tracy may or may not be a good movie. It just wasn't the blockbuster movie. The expectations were just too high — really, through no fault of its own. Unlucky timing, unlucky hype. But really, those t-shirts were great.
Also on June 15th: Rocky II hit theaters and Rocky actually got to win this time (1979)… the Famicom was released in Japan (it would go on to be the NES in North America, two years later) (1983)… engineers at Compuserve created the file format for animated GIFs (1987)… Nirvana's debut album Bleach was released (1989)… Vice President Dan Quayle misspelled the word "potato," back in an era when spelling difficulty was considered a bug, not a feature, for important politicians (1992)… The Lion King hit theaters (1994)… O.J. Simpson struggled to get the glove to fit at trial (1995)… Disney's Hercules was released (1997).
June 16th
30 years ago, on June 16, 1990 - Roxette's It Must Have Been Love became the number one song in the U.S.
Roxette was a remarkably successful duo out of the pop music factory known as Sweden. They're actually Sweden's second-bestselling music act ever, behind ABBA. Between 1989 and 1991, they had four number one hits and two number two hits in the U.S.

So why are they so many notches below ABBA in the annals of music history? I see two reasons.

One, poor follow-up. After attaining international success, their next album, 1994's Crash! Boom! Bang! failed to measure up. It didn't even crack the Billboard Top 200 albums chart in the U.S. (and, with the increasing globalization of music and power of MTV, the U.S. market was make-or-break).

And two, Ace of Base happened. Crash! Boom! Bang! was released nine months after an album from another Swedish pop upstart: Ace of Base. Some could say that pop culture saw the sign, opened up its eyes, and it was happy now living without Roxette. No one would actually say something that convoluted, but some theoretically could.
Also on June 16th: Grease hit theaters (1978)… Jimmy Buffett's Cheeseburger in Paradise topped out at #32 on the Billboard charts (1978)… Ghostbusters II hit theaters (1989)… Batman Forever, with Val Kilmer taking over for Michael Keaton as the lead superhero, hit theaters (1995)… Disney's Pocahontas, a word I am still never able to properly spell on the first try, was released (1995)… the Chicago Bulls defeated the Seattle Supersonics in the NBA Finals to win their fourth title (it was Michael Jordan's first season back from his baseball-playing version of a European backpacking gap year)… Will Smith's Men in Black rap tie-in to the movie was released (1997)… a court ruled digital music players were legal, opening up the door for legalized mp3s (1999)… Al Gore announced his candidacy for president; he'd go on to win the election but not become president (1999).
June 17th
26 years ago, on June 17, 1994 - O.J. Simpson's low-speed car chase with the LAPD aired live on TV.
I don't remember all that much about the summer of 1994, but I remember this: Sitting in my parents' bedroom, watching the surreal images of the O.J. Simpson chase on TV, even which friend I was talking to as it happened. It all felt so unbelievable, even if O.J. Simpson was a little before our time.

The O.J. Simpson chase, then trial, would be the dominant news story of the mid '90s, and this was the night it all started. This is one of the "you remember where you were when it happened" moments of the decade — for some, this might just be the first news story they really remember.
Also on June 17th: The Great Outdoors hit theaters and introduced steak eating contests to the masses (1983)… South Africa abolished apartheid (1991)… the Phoenix Suns pulled off one of the biggest blockbuster trades in NBA history, acquiring Charles Barkley (1992)… DirecTV launched (1994)… Third Eye Blind's single Semi Charmed Life was released… Adam Sandler's movie Big Daddy hit theaters (1999).
June 18th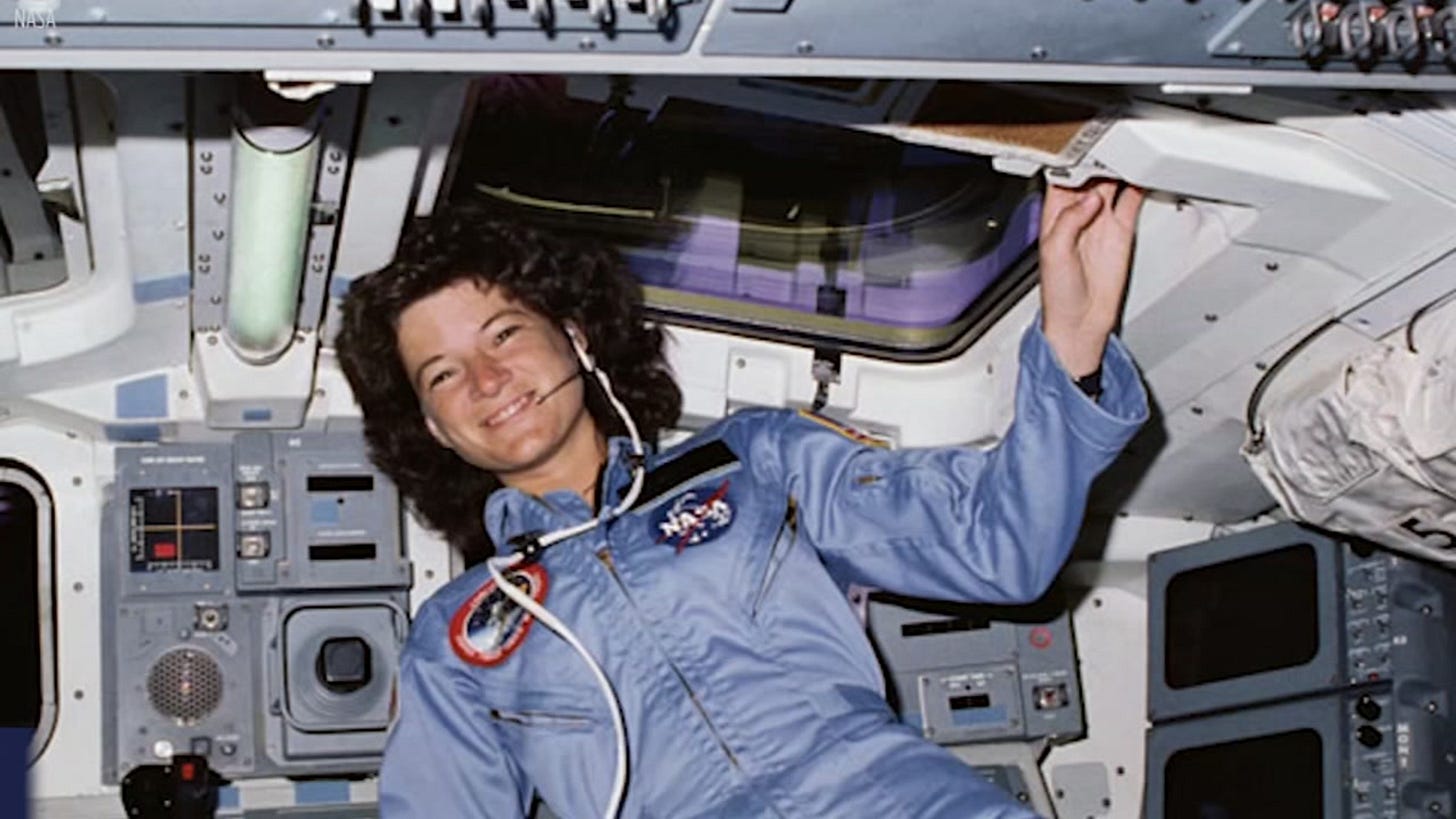 37 years ago, on June 18, 1983 - Sally Ride became the first American woman in space.
Two female Soviet cosmonauts went to space before Ride, but still. She was also the youngest American astronaut to go to space (and still is), at age 32. Ride also served on the committees that investigated the Challenger and Columbia disasters, the only person on both.

Sadly, she passed away in 2012 from pancreatic cancer.
Also on June 18th: Rick Astley's single Together Forever hit #1 (1988)… Bryan Adams' single Everything I Do, I Do It for You, from the Robin Hood: Prince of Thieves soundtrack, was released (1991)… Last Action Hero hit theaters (1993)… Beck's album Odelay was released (1996)… Disney bought a 43 percent stake in the search engine Infoseek (1998)… Run Lola Run was released (1999).
---
Everything old is new again
A look at the reboots, revivals, throwbacks, retro insights, and nostalgia in the news.
---
Throwbacks and recommendations…
Here's a phenomenal breakdown of a terrible episode of GoBots that "knew exactly how bad it was."

New throwback movies and TV added to major streaming services this week: Twister on Netflix… Robin Williams' Popeye on Amazon Prime… the Tom Cruise movies Mission: Impossible and MI:2 on FXNOW… and Last Action Hero, The Muppets Take Manhattan, Higher Learning, The Fisher King, and Postcards from the Edge on Pluto.

With the TV show COPS getting canceled, footage of Atari's little-known LaserDisc-based COPS video game from 1994 has surfaced.

You Don't Nomi, a documentary about the cult of fandom for the movie Showgirls, is now available on demand.

Here's a list of 13 "long-lost foods from the '70s" that may inspire some nostalgia and/or artery hardening.

A quick video featuring a modder who puts modern tech into old boomboxes, including a Super Nintendo.

Read up on the history and resurgence of yacht rock.

Here's an ode to the Atari 2600.

Lots of odes this week. Here's an ode to the Nintendo Virtual Boy.

Check out a lovely video of someone restoring a PlayStation 1 from terrible shape to glistening.

Here's a short roundup of "Athletes who managed to make Rec Specs look cooler than they have any right to be." I say "short" roundup because, well, there are only four entrants on the list. It's a tough list to make.
---
Thanks for reading!
-Sam