August 21: Zelda, Dead Man on Campus, Tubthumping
Plus Steamed Hams oral history, My So-Called Life, That '70s Show, and more
---
The Retro by 11 Points
Modern perspectives on '80s and '90s nostalgia
August 21, 2020 • Issue 9
---
⚠️ Please spread the word!
---
This week in nostalgic history
August 21st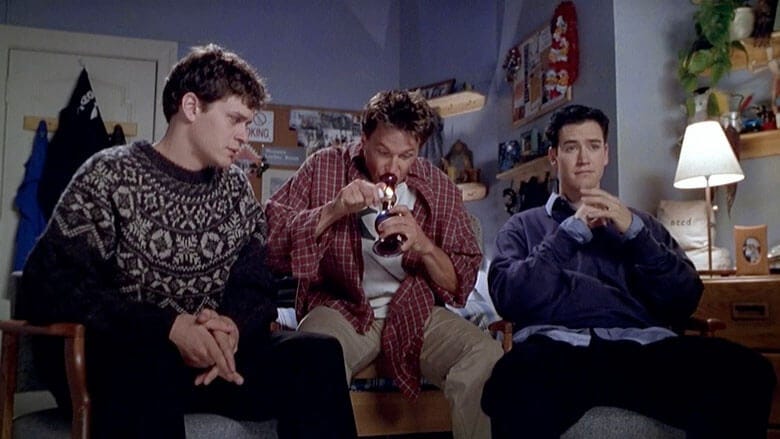 22 years ago, on August 21, 1998 - Dead Man on Campus hit theaters.
Dead Man on Campus was ostensibly part of the late '90s push to see just how dark a dark comedy should go (in its case, focusing the plot around two college roommates trying to find a suicidal third roommate because of an archaic campus rule that any student(s) whose roommate kills themselves will receive straight As).

But really, Dead Man on Campus's true litmus test was: Can the Zack Morris shtick translate in an R-rated environment? The PG Saved by the Bell: The College Years only lasted for 19 episodes — what would happen if all the restrictions were lifted?

Mark-Paul Gosselaar gives it… ahem… the old college try in this movie, translating the full Zack Morris charcter to its new setting (albeit with dark hair, you know, to differentiate). And, full confession, amongst my group of college friends, DMOC is king — a movie we all saw together in the theater and proceeded to watch hundreds of times as a group over the course of the two decades since. But for the general public, the referendum on R-rated Zack Morris came back with a resounding "no." Or, more accurately, "meh."

Dead Man on Campus came and went from movie theaters where it barely recouped its (very minimal) budget, and we never saw Mark-Paul Gosselaar play R-rated Zack Morris again.
Also on August 21st: Dirty Dancing and The Garbage Pail Kids Movie both hit theaters (1987)… I'm Gonna Be (500 Miles) by The Proclaimers peaked at number three on the Billboard charts and Slam by Onyx peaked at number four (1993)
August 22nd
33 years ago, on August 22, 1987 - The Legend of Zelda was released in North America.
It's, perhaps, not fair to say that The Legend of Zelda is the Pepsi to Super Mario Bros. Coke — although that's the metaphor that first comes to mind. It's more like Zelda is the St. Paul to Mario's Minneapolis. A unique entity, thought by some to be superior — but always named second as it permanently sits in the shadow of the more famous, more publicized conjoined companion.

The original Legend of Zelda remains one of the great games of all time: The rare game that required both fast reflexes and sharp puzzle solving. There have now been 19 Zelda games, with at least one released for all of Nintendo's major consoles.
Also on August 22nd: Tom Cochrane's Life is a Highway peaked at number six on the Billboard charts (1992)… GI Jane hit theaters (1997)… Jay Z's single Can I Get A… was released (1998)… Harvey Danger's one hit, Flagpole Sitta, peaked at number 38 (1998)
August 23rd
22 years ago, on August 23rd, 1998 - That '70s Show premiered on FOX.
That '70s Show was fighting an uphill battle against the corniness of title from the day it launched. A strong cast, good writing, and the wise decision to ground the show in romantic relationships set against a '70s backdrop rather than a parade of winking jokes from the future wound up propelling it to eight seasons and 200 episodes.

The creators did, however, make the mistake of setting it in 1976, meaning they had to really stretch out the '70s over eight years; the show's finale was set on December 31, 1979. Future nostalgia shows would take different approaches, like its short-lived spinoff That '80s Show, starring future It's Always Sunny creator Glenn Howerton, which picked 1984; or The Goldbergs, which decided to just say every episode took place in "1980-something" to faciliate full anachronism stew.

Also, notable: That '70s Show came out in 1998 and was set in 1976 — 22 years earlier. If a proportionate nostalgia show came out today, it would be… That 1998 Show. That's right: That '70s Show is currently equidistant between when it was set and now.
Also on August 23rd: Both Teen Wolf and Better Off Dead hit theaters because apparently no one understood that counterprogramming required aiming at different audiences (1985)… the Super Nintendo went on sale in North America (1991)… Blogspot launched (1999)… Destiny's Child's single Bug a Boo was released (1999)… the season finale that cemented reality TV as the new force to be reckoned with, the finale of season one of Survivor, aired on CBS (2000)
August 24th
30 years ago, on August 24, 1990 - The Witches hit theaters.
The Witches probably shouldn't have been made into a children's movie. (Roald Dahl often plays a lot worse in retrospect in a lot of ways.) The Witches is the rare "super dark children's book" — the story of a boy who lives in a world filled with child-murdering witch covens. Spoiler on the book: It ends with the boy being turned into a mouse and not getting turned back. Also, he finds out as a mouse he'll probably die within the decade, but he's ok with that since he lives with his old grandma and she'll probably die within the decade too. Anyway, good night, child who we're reading this to, sweet dreams.

In spite of the less-than-feel-good source material, The Witches was made into a movie in 1990. It featured what's often considered the scariest scene in any children's movie ever, when the witches reveal their true appearances. But the hedge finally comes at the end of the movie, when the makers reluctantly admit "umm, maybe we shouldn't have made this book into a movie" and opt for the Mega Happy Ending with the boy being turned back from a mouse to a human by a good witch.
Also on August 24th: The Facts of Life premiered (1979)… Pete Rose was banned from baseball (1989)… OPP by Naughty by Nature was released (1991)… Windows 95 was released (1995)… Christina Aguilera's self-titled debut album was released (1999)
August 25th
26 years ago, on August 25, 1994 - My So-Called Life premiered on ABC.
The enduring popularity of My So-Called Life belies its very short life: Just one season and 19 episodes. But the pure '90s extreme melodrama in those episodes really made an impact on people; My So-Called Life might just be one of the most popular one-season wonders of all time. (Firefly and Freaks and Geeks also come to mind as contenders.) And hey, Jared Leto and whatnot.
Also on August 25th: Little Monsters hit theaters (but in a very small release) (1989)… Mary J. Blige's single Real Love and Wreckx-n-Effect's single Rumpshaker were both released (1992)… Lauryn Hill's album The Miseducation of Lauryn Hill was released (1998)
August 26th
23 years ago, on August 26, 1997 - Tubthumping by Chumbawumba was released.
Tubthumping might be the most reluctant mega pop hit of all time.

Chumbawamba was a far-left punk band before — and after — Tubthumping. The irony of their capitalistic success wasn't lost on them. Once Tubthumping's boppy popularity began to skyrocket, the band even tried to push back — at one point encouraging their fans to steal it from record stores rather than buy it. They turned down millions from Nike to feature the song in a commercial. Then a few years later, they took money from General Motors to use the song in a commercial and donated that money to anti-corporate lobbying groups.
Also on August 26th: Natural Born Killers hit theaters (1994)… Mariah Carey's single Honey was released (1997)… WWF Smackdown premiered (1999)
August 27th
28 years ago, on August 27th, 1992 - The Heights premiered on FOX.
Not to be confused with the first Lin-Manuel Miranda musical In the Heights, The Heights was a musical drama on FOX almost two decades before the network would find greater success in that genre with Glee. Much like My So-Called Life earlier on this list, The Heights was a one season wonder — just 13 episodes that ran from late August through November in 1992.

There's one and only reason The Heights landed on, and remains on, the zeitgeist radar. The show was about a fictional band called The Heights and the "band's" hit song was called How Do You Talk to an Angel. That song would become an actual hit in the U.S., even hitting number one on the Billboard Hot 100. I would say that's a case of life imitating art, but it's more a case of life transcending art.
Also on August 27th: Pearl Jam's album Ten was released (1991)… Super Mario Kart was released in Japan (1992)… Martin premiered on FOX (1992)… 112's self-titled album was released (1996)
---
Everything old is new again
A look at the reboots, revivals, throwbacks, retro insights, and nostalgia in the news.
---
Throwbacks and recommendations
---
Thanks for reading!
-Sam