August 7: South Park, Netscape, Backstreet Boys
Plus Masters of the Universe, Doug, Rugrats, A League of Their Own reboot, and more
---
The Retro by 11 Points
Modern perspectives on '80s and '90s nostalgia
August 7th, 2020 • Issue 7
---
⚠️ Please spread the word about The Retro to one or two friends! ⚠️
---
This week in nostalgic history
August 7th
33 years ago, on August 7th, 1987 - Masters of the Universe premiered in theaters.
He-Man, the first cartoon series based around a toy line (and not vice versa), was a massive hit of the early-to-mid '80s. The live-action film, however, did not live up to expectations. It was too dark for kids — everything about it looked far too scary for the He-Man demographic, especially live-action Skeletor. Plus, the under-budget film completely missed the mark: Rather than taking place in Eternia and featuring the plethora of popular, colorful characters of the He-Man universe, the movie used a disappointing plot contrivance of He-Man randomly flying to modern-day Earth to have an "adventure" on this planet.

It could be said that no He-Man reboot, remake, or revival has ever managed to capture whatever random magic the original cartoon series had — and the 1987 live action "He-Man in the City" movie was the maiden voyage on that still-growing list of underachievments.

Further reading: 11 Disappointments About He-Man, In Retrospect
Also on August 7th: Unforgiven and 3 Ninjas both hit theaters (1992)… Garth Brooks played a free concert in Central Park (1997)… Snake Eyes hit theaters (1998)
August 8th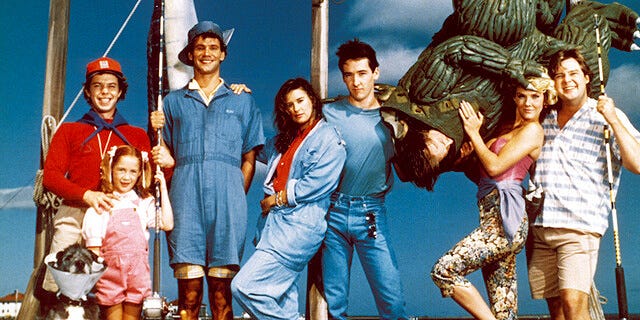 34 years ago, on August 8th, 1986 - One Crazy Summer premiered in theaters.
When people today make a parody of an '80s movie, it's almost always a mix of two John Cusack bangers: Better off Dead and One Crazy Summer. (Along with a Breakfast Club-Simple Minds fist in the air at the end.) But really, the parodies are about 75 percent One Crazy Summer. This movie has literally everything you could want from an '80s teen comedy: Summer nonsense, a group of underdog nerd weirdos, an extremely attractive girl (in this case, Demi Moore) who's got a thing for the king of the underdog nerd weirdo pack, rich jerks galore, a sporting event to decide the fate of a sentimental building standing in the way of the rich jerks' real estate development, lots of random side plots that go nowhere, assorted drops of surrealism, and, yes, John Cusack.

Anyway, I give this movie 17 thumbs ups and your summer will not be complete without watching it. Although it holds up today mostly as an appreciation of the tropes it pioneered — again, 17 thumbs ups.
Also on August 8th: Stand by Me hit theaters (1986)… NWA's album Straight Outta Compton was released (1988)… Metallica's James Hetfield was burned in a pyro explosion (1992)… the U.S. Dream Team won the gold medal at the Barcelona Olympics (1992)… Coolio's single Gangsta's Paradise was released (1995)
August 9th
25 years ago, on August 9th, 1995 - Netscape's IPO kicked off the dot-com boom.
Netscape's IPO is widely recognized as the beginning of the dot-com boom, and with good reason. The stock was going to be offered at $14 per share. At the last moment, that was doubled to $28. The value peaked at $75 on the first day of trading and closed at $58. But the most important part: Netscape hadn't made a single penny of profit.

And once profit became divorced from the valuation equation for tech companies… well, there was suddenly no ceiling. The dot-com boom was obviously a bubble from day one, but that didn't stop anyone. Random tech companies that sound made up, like Fadzoox, Flooz, and Boo, went public and soared to astronomical valuations.

The good times rolled until they didn't, of course — "didn't" arriving when it was time to figure out how to monetize. That remained the eternal question of the internet for the decades to follow, until Google and Facebook finally realized the real money lied in things like excessive personal privacy invasion and deep-pocketed authoritarians.

But back to Netscape. For that shining moment in 1995, it was the big dog of the internet world. It would cede that position a few years later once Microsoft's gambit to bake Internet Explorer into the very DNA of Windows paid off. Also, Netscape was acquired by AOL in 1998, and nothing good has ever resulted from the sentence "was acquired by AOL"," so there's that.

Today, the Netscape brand name is owned by Verizon and the company itself is a "non-operating subsidiary" of Facebook. But, more important, its true heart still beats on in Firefox, a result of the open source code Netscape released in 1998 under the name Mozilla.
Also on August 9th: Pee-Wee's Big Adventure and Real Genius both hit theaters (1985)… Wayne Gretzky was unthinkably traded to the Los Angeles Kings (1988)… ESPN's only hit song (frankly, it's weird they even have one hit song), Jock Jams, peaked at #31 on the Billboard charts (1997)
August 10th
27 years ago, on August 10th, 1993 - Billy Joel's final studio album, River of Dreams, was released.
I'm perpetually fascinated by Billy Joel calling it quits on new albums after River of Dreams but continuing his career indefinitely. Like, the guy still performs all the time. (Just ask all of the sad Long Islanders who are sitting on tickets for concerts that still need to be rescheduled.) Since River of Dreams, Joel technically has released one album of original music — Fantasies & Delusions, a classical music album from 2001 — but no pop albums. (He's also released, by my count, 16 albums of either greatest hits or live performance recordings.)

Because he continues to perform (and crank out greatest hits albums), his seemingly premature retirement from recording doesn't get the attention it could. This is someone retiring pretty close to the top of their game or, at least, before they'd totally lost their fastball. To me, it's up there with Rick Moranis, Barry Sanders, Lauryn Hill and Sean Connery.
Also on August 10th: Red Dawn and Cloak and Dagger both hit theaters (1984)… Arliss premiered on HBO (1996)
August 11th
29 years ago, on August 11th, 1991 - Doug, Rugrats, and The Ren & Stimpy Show all premiered on Nickelodeon.
It's hard to imagine there's been a better single network TV slate of shows all to debut in one night. The three cartoons mentioned above were the first three Nicktoons — Nickelodeon's first foray into original animated series.

I struggle with just how much weight to give the success of those three programs. I think it's safe to say it changed Nickelodeon, turning it from "not the Disney Channel" to a major force to this day. It also changed Viacom, inspiring MTV to put more of an investment into its original programming. Is it too much of a stretch to say it was among the early signs that cable networks could (and should) make original programming that competed with the offerings on broadcast networks, which eventually snowballed into 500 cable channels each making 500 original series? Maybe. Maybe not.
Also on August 11th: Clara "Where's the Beef" Peller passed away (1987)… Super Mario All Stars for Super Nintendo was released in North America (1993)… Dangerous Minds hit theaters (1995)… Sixpence None the Richer's single Kiss Me was released (1998)
August 12th
23 years ago, on August 12th, 1997 - The Backstreet Boys' debut album was (finally) released in the U.S.
The Backstreet Boys had a long, (probably) unnecessarily slow journey into the American market. The group was formed by boy band impresario/terrible human being Lou Pearlman in 1993, and after some local performances around the Orlando area, they shipped off to Sweden to work with that country's pop music wizards. They stuck around Europe after that and their debut album was released in May of 1996 everywhere except North America.

Even though their music was extremely popular overseas, for whatever reason, the album wasn't released in the U.S. until August of 1997. By that point, the Backstreet Boys were ready with their second album in Europe, and the U.S. release of their debut album contained tracks from both.

Why the weird rollout? The official story is that the U.S. wasn't quite ready for assembly line boy band pop music in 1996 but somehow was by 1997. Thanks to maybe Hanson and the Spice Girls? That timeline more or less checks out.
Also on August 12th: IBM's first PC, the 5150 Personal Computer, went on sale (1981)… Young Guns and Mac and Me hit theaters (1988)… Major League Baseball's strike began (1994)… Cotton Eye Joe by Rednex was released (1994)… In the Army Now hit theaters (1994)… FOX aired its first NFL broadcast (1994)… Usher's single You Make Me Wanna was released (1997)
August 13th
23 years ago, on August 13th, 1997 - South Park premiered on Comedy Central.
In 2006, South Park aired a two-episode arc in which they didn't just mock Family Guy — they eviscerated it. South Park broke down exactly why Family Guy's joke structure did not and could not measure up to the other pillars of the animation world. It was hard to ever watch Family Guy the same way after that.

South Park itself is now undergoing a similar reckoning itself. Not about its joke quality — no one can question that. It's about whether South Park's DGAF ethos was more irresponsible than it seemed over the past two-plus decades and, as a result, played an outsized role in our modern dystopian reality.

While it's too early to fully write the book on South Park, it's fair to say that the past few years have not played out kindly with regards toward the show's influence on an entire generation. I don't need to further reiterate the points a number of thinkpieces have made to that end, nor point out the Blame Canada irony of it all. In 1997, when South Park debuted, there was no talk about it influencing a generation of meming nihilists on a journey from indifference to trolling to internalized darkness manifesting in violent antisocial ways. Mostly, it was just a show that looked different than anything on TV, making different jokes than anything on TV, showing kids doing things you'd see nowhere else on TV, and doing all of that really well.

I've watched every episode of South Park for its entire multi-decade run. The show remains a testament to the true, culture-shifting power of satire and of the immeasurable creativity that can come when bureaucratic reigns are released. It may not hit the bullseye as often as it used to, and it may or may not be part of the societal erosion that led to white supremacists proudly and openly marching down the street of my little town two weeks ago, but in spite of that (or perhaps, because of that), it's impossible to deny South Park's standing as a once and future cultural force.
Also on August 13th: Fast Times at Ridgemont High hit theaters (1982)… Full House moved from TGIF to Tuesdays (1991)… Street Fighter II was released for Super Nintendo (1993)… Searching for Bobby Fisher hit theaters (1993)… Bowfinger and Detroit Rock City both hit theaters (1999)
---
Everything old is new again
A look at the reboots, revivals, throwbacks, retro insights, and nostalgia in the news.
---
Throwbacks and recommendations
---
Thanks for reading!
-Sam