July 10: Point Break vs. Boyz n the Hood, Mega Man 2, Hugh Grant's confession
Plus a Pac-Man watch, Wonder Years reboot, A-ha steamed hams, and more
---
The Retro by 11 Points
Modern perspectives on '80s and '90s nostalgia
July 10, 2020 • Issue 3
---
⚠️ PLEASE TELL ONE FRIEND ABOUT The Retro! They will really enjoy it.
---
This week in nostalgic history
July 10th
25 years ago, on July 10th, 1995 - Hugh Grant appeared on The Tonight Show with Jay Leno to address his prostitution scandal and shifted the power balance in the late night wars for good.
This interview is less famous for what Hugh Grant said — spoiler: lots and lots of British stammering — and more for being a watershed moment in the Leno-Letterman battle.

Grant was busted roughly two weeks before this interview for receiving a sexual act from a prostitute in Los Angeles. His first major studio film, Nine Months, was set to come out on July 14th. So, despite the controversy, Grant kept his Leno booking and appeared for his first interview following the incident.

That night marked the first time that Leon's Tonight Show beat Letterman's Late Night on CBS in the ratings. It was a lead he would essentially never relinquish.
Also on July 10th: Coca-Cola relented on its New Coke experiment and announced Coke Classic would return (1985)… Revenge of the Nerds 2 premiered (1987)… the Chicago Bulls hired Phil Jackson as head coach (1989)… the U.S. women's soccer team won the World Cup and Brandi Chastain famously celebrated her winning goal (1999)
July 11th
31 years ago, on July 11th, 1989 - Mega Man 2 for the Nintendo Entertainment System was released in North America.
Mega Man was one of the "not Mario/not Zelda" franchises of the early home console days, and the games in the series trailed the Marios and Zeldas of the world accordingly. However, Mega Man 2 became the most popular and top-selling game in the Mega Man series (a series that's now had 11 games, most recently in 2018) by being the right game at the right place at the right time.

Mega Man 2 was featured on the cover of the seventh issue of Nintendo Power, which was a king making move in and of itself. However, what really sold the game were the pictures inside of that issue of Nintendo Power. It's still unbelievable what the developers of Mega Man 2 were able to do within the 8-bit limitations; the game's huge, colorful, detailed graphics were unlike pretty much anything we'd seen to that point in any other NES game. Mega Man 2 also made the smart decision to ratchet down Mega Man 1's "so hard it's basically unplayable" difficulty (a "feature" that came standard with so many NES games).

Mega Man 2 would sell more than 1.5 million copies and make quite a few of those "best 100 video games of all time" lists.
Also on July 11th: Bo Jackson became a two-sport professional athlete by signing with the L.A. Raiders (1987)… Bo Jackson won the MVP of MLB's All-Star Game (1989)… Blood Feud, the season two finale of The Simpsons, aired on FOX… Shaggy's album Boombastic was released (1995)… Contact hit theaters (1997)
July 12th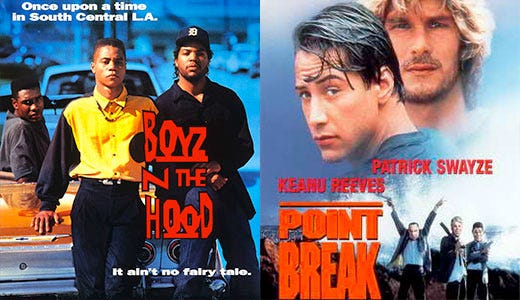 29 years ago, on July 12th, 1991 - Both Boyz n the Hood and Point Break hit theaters nationwide.
I once wrote about this release battle (11 Pairs of Classic Movies Surprisingly Released on the Same Day ('90-'94)) and noted that both movies, over time, have become iconic in their own ways. It's still amazing to think that somewhere, studio executives thought white folks wouldn't be able to connect with Boyz n the Hood, so they decided to counterprogram with something they felt would be more accessible for that audience: A former Ohio State quarterback, with a personality akin to a piece of driftwood, turns undercover FBI agent with meatball-loving Gary Busey as his handler, and infiltrates a group of extreme athletes who were surfers by day and bank robbers by… um… also day.
Also on July 12th: Mad Max: Beyond Thunderdome hit theaters (1985)… Northern Exposure had its series premiere (1990)… Oz had its series premiere (1997)… France won the men's World Cup (1998)
July 13th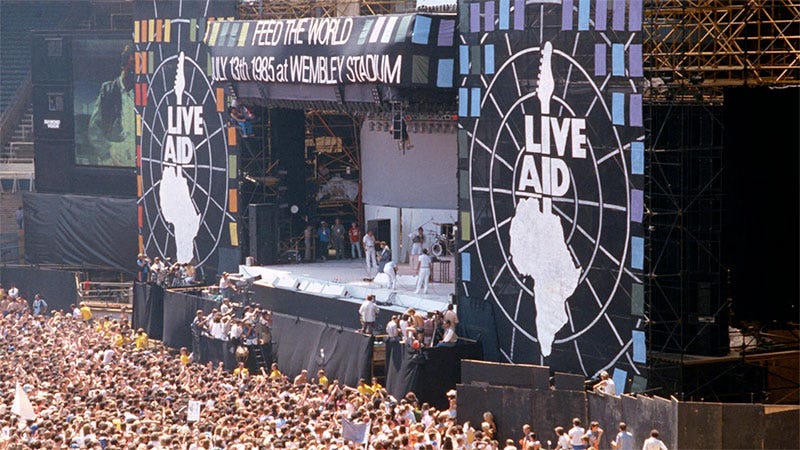 35 years ago, on July 13th, 1985 - Live Aid benefit concerts were held in the U.K. and U.S.
I was too young to catch Live Aid when it was happening, but it was part of that great '80s wave of massive stunts for charity: Hands Across America, Live Aid, We Are the World, Farm Aid, Human Rights Now!, and so on. Sure, large collaborations and charitable initiatives certainly still exist now, but they peaked in the '80s. And Live Aid's ambitious intercontinental simulcast was one of the biggest moments of that peak.
Also on July 13th: The Muppets Take Manhattan hit theaters (1984)… Ghost hit theaters (1990)… Randy Johnson and John Kruk did some shtick during the MLB All-Star Game (1993)
July 14th
31 years ago, on July 14th, 1989 - License to Kill marked Timothy Dalton's second and final appearance as James Bond.
Timothy Dalton stepped in as Bond in 1987, after seven movies with Roger Moore, and exited in 1989. (The franchise would go on a bit of hiatus, then resume with four movies with Pierce Brosnan.) I'm not a Bond scholar, but from what I can tell, Dalton was essentially a caretaker Bond. Kind of the Chester A. Arthur or Rutherford B. Hayes of the Bond series. (George Lazenby was William Henry Harrison, full stop.)
Also on July 14th: When Harry Met Sally hit theaters (1989)… Super Mario All-Stars for Super Nintendo was released in Japan (1993)… Nine Months hit theaters (1995)
July 15th
26 years ago, on July 15th, 1994 - Hulk Hogan admitted to taking steroids during the WWF's steroid trial.
Hulk Hogan has remained a master of self-promotion and self-preservation throughout his entire four-decade wrestling and post-wrestling career. (He's so adept at keeping his value high that, somehow, the WWE continues to occasionally use him even after recent videos of him making unthinkable racist comments.) When Hogan was called in to testify against Vince McMahon and the WWF, he called on his self-preservation skills to expertly toe the line: He admitted steroid use, implicated the WWF, but implicated them in such a way that he didn't burn his bridge (and maybe even helped their case). His testimony never touched on McMahon pushing him to do the steroids, which is what the prosectors were looking for; Hogan said the steroids were just to heal injuries, to keep on going." His underwhelming testimony, and the underwhelming testimony of virtually all the other wrestlers called in to the court, was a major factor in McMahon's eventual acquittal on all charges. And, as well, a major factor in Hogan continuing to make money from WWE to this day.
Also on July 15th: MLB held its first home run derby (1985)… Die Hard hit theaters (1988)… A Fish Called Wanda hit theaters (1988)… Right Said Fred's single I'm Too Sexy was released (1991)… Bill Clinton received the presidential nomination at the Democratic National Convention (1992)… There's Something About Mary hit theaters (1998)
July 16th
39 years ago, on July 16, 1981 - Datsun changed its name to Nissan.
Thus rendering old episodes of Classic Concentration utterly confusing to future generations who had to wonder, "What's this 'Datsun' they keep matching?'"
Also on July 16th: Dollywood opened (1986)… Marky Mark and the Funky Bunch's single Good Vibrations was released (1991)… Free Willy and Hocus Pocus hit theaters (1993)… Amazon.com launched, selling books online (1995)… Eyes Wide Shut and the Blair Witch Project hit theaters (1999)
---
Everything old is new again
A look at the reboots, revivals, throwbacks, retro insights, and nostalgia in the news.
---
Throwbacks and recommendations
---
Thanks for reading!
-Sam