July 17: The Daily Show, UHF, NeverEnding Story
Plus Da Dip, a Nintendo made of Legos, Alanis's explanation for un-ironic lyrics, and more
---
The Retro by 11 Points
Modern perspectives on '80s and '90s nostalgia
July 17, 2020 • Issue 4
---
⚠️ At 5,000 subscribers, this newsletter will go DAILY. Please spread the word to one or two friends who'd love it to help move that goal ahead! ⚠️
---
This week in nostalgic history
July 17th
22 years ago, on July 17th, 1998 - The series finale of Family Matters aired.
I had to do a double take when I saw the year. 1998!? Family Matters was a staple of ABC's TGIF lineup on Friday night in the early '90s, so a run extending to 1998 made little sense — but it's true. The show migrated to CBS for its final season and finished out its run in the summer of 1998 amidst crumbling ratings. I didn't watch season 9 of Family Matters — suffice to say it wasn't a priority for me to catch the show during my freshman year of college — but it appears to have featured the following:

A different actress playing the mom, Harriet.

Steve Urkel creating an invention that allows him to read minds.

A love quadrangle between Laura Winslow, Steve Urkel, Steve's girlfriend Maya, and Steve Urkel's suave alter ego Stefan Urquelle

Steve Urkel hitting a half court shot to win $1 million at a L.A. Clippers game

Steve Urkel going to outer space and crashing a satellite (that's one hell of a "did I do that" moment)

Eddie Winslow getting shot

A final moment of Laura and Steve kissing as Steve returns from outer space

That's "The O.C. season one" levels of burning through crazy storylines. Maybe I should've been watching.
Also on July 17th: Soft Cell's one hit Tainted Love peaked at number 8 on the Billboard Hot 100 (1982)… Robocop hit theaters (1987)… Color Me Badd's I Adore Mi Amor (the inspiration for the "thanks for subscribing" email you get from this newsletter) was released (1991)… Honey, I Blew Up the Kid hit theaters (1992)… The Mask of Zorro hit theaters (1998)
July 18th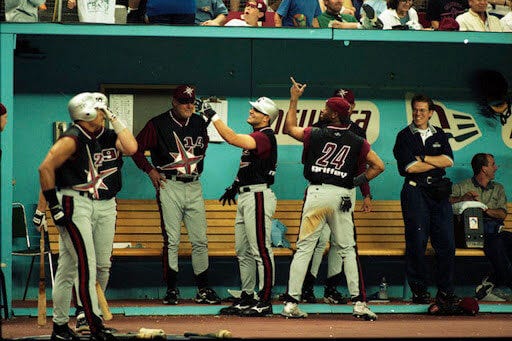 22 years ago, on July 18, 1998 - The Seattle Mariners held a "Turn Ahead the Clock" night.
Long before teams had a million different jerseys, a "stunt jersey" event was something to behold. The Mariners held, arguably, the most notable one of the '90s when they ran their Turn Ahead the Clock night — wearing uniforms as they envisioned them to be in 2027. (Note: And hey, by 2027, we might actually have sports with crowds again. Maybe.)

The uniforms the Mariners (and their happy-to-join-in opponents on the Kansas City Royals) wore were garish, even by '90s standards. Still, it was a unique idea, one ahead of its time (every minor league baseball team now runs tons of stunt jersey nights) — and one that MLB then ruined by forcing onto a number of other teams the following season.
Also on July 18th: Aliens hit theaters (1986)… Whitney Houston married Bobby Brown (1992)… Hootie & the Blowfish released the single Hold My Hand (1994)… the Los Angeles Lakers signed Shaquille O'Neal (1996)
July 19th
25 years ago, on July 19th, 1995 - Road Rules premiered on MTV.
The Real World was a boring concept. Sure, it worked in its time because there was no reality TV genre yet — so just putting random people together in a house counted as a novel scenario. It became clear, though, in lieu of any action, the show desperately needed combustible personalities to be interesting. That led to a series of very regrettable incidents over the first handful of seasons.

Road Rules was intended to be the evolution of the format. Rather than sticking a bunch of just-on-the-edge-of-nuts 22-year-olds in a house, they stuck maybe-slightly-less-nuts 22-year-olds in an RV and had them, ya know, actually do something. The cast members found clues, competed in challenges, and spent less time just sitting around chatting.

The show lasted 14 seasons but its true legacy lies in MTV's Challenge. Without Road Rules, it's entirely possible there would never have been the idea for the Real World vs. Road Rules Challenge and then, eventually, the Challenge franchise that's gone on to be more successful than The Real World or Road Rules.
Also on July 19th: The summer Olympics opened with the U.S. boycotting (1980)… Bill and Ted's Bogus Journey hit theaters (1991)… Billy Joel's last real studio album, River of Dreams, was released (1993)… ceiling tiles collapsed at Seattle's Kingdome (1994)… Clueless hit theaters (1995)… Kazaam and Trainspotting hit theaters (1996)
July 20th
36 years ago, on July 20th, 1984 - The NeverEnding Story was released.
It's still never not going to be funny that there was a sequel to The NeverEnding Story.
Also on July 20th: Vanessa Williams was asked to resign as Miss America after nude photos were published in Penthouse (1984)… Revenge of the Nerds hit theaters (1984)… DJ Jazzy Jeff and the Fresh Prince's Boom Shake the Room was released (1993)… OJ Simpson offered a reward for the capture of the "real killers" (1994)… the series finale of Dinosaurs aired (1994)
July 21st
31 years ago, on July 21st, 1989 - "Weird Al" Yankovic's only feature film, UHF, was released.
An odd pick for summer blockbuster season, UHF was a low budget niche movie that never would've received a theatrical release today. I'm not even sure it would go straight to Netflix today; it's almost too niche for even that. It feels like a Kickstarter project a few decades before there were Kickstarter projects. Or maybe straight to Crackle.

UHF wasn't a smash hit, although it's picked up mega cult classic status over time (that's kind of everything "Weird Al" has ever done in a nutshell) and is now celebrated for its iconoclastic and unabashed absurdity in an era otherwise almost completely devoid of that type of filmmaking.
Also on July 21st: The controversial movie Kids was released (1995)… Wayne Gretzky signed with the New York Rangers (1996)… Apple's iBook was released, featuring wireless networking (1999)
July 22nd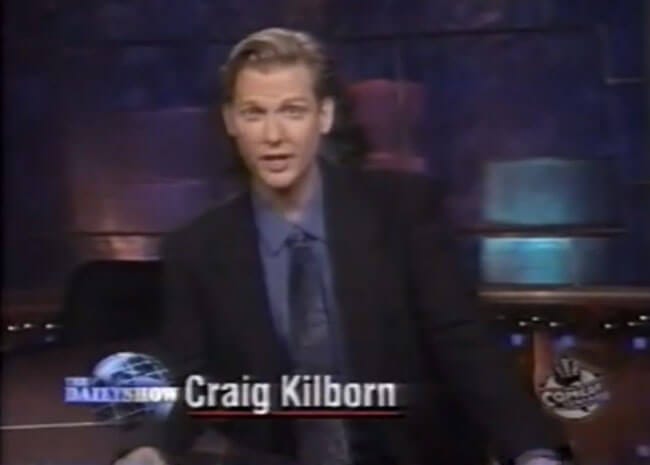 24 years ago, on July 22nd, 1996 - The Daily Show premiered on Comedy Central.
The Daily Show was never meant to be an influential political voice. The original Daily Show that began 24 years ago featured Craig Kilborn as host; Kilborn's style didn't lend itself to the punching up required for political satire. Kilborn's comedic style has always been more about punching down, kind of a "Letterman without the self-deprecation or wink and nod." Under Kilborn, the show was very much about keeping everyone on the defense — whether it was peppering interview guests with rapid fire "five questions" or airing correspondent pieces that eschewed broader social commentary in the service of making someone(s) come off as foolish as possible.

It was, by and large, an empty calories talk show — often good for a laugh, rarely going (or even attempting to go) beyond. Kilborn also clashed with the staff, as he's done at every stop of his career, but only left the show when he Peter principled his way into the 12:35 A.M. talk show gig on CBS.

That, of course, brought on Jon Stewart and ushered in The Daily Show's golden era — where it became both a force in comedy and in politics. And, as cable news (with one network in particular) went spiraling off the rails, The Daily Show even became the fifth estate, calling out the hypocrisy and senior citizen brain-melting insanity it was regurgitating on a daily basis.
Also on July 22nd: Big Top Pee Wee and Caddyshack 2 both hit theaters (1988)… Jeffrey Dahmer was arrested (1991)… OJ Simpson pleaded "absolutely 100% not guilty" to murder (1994)… Len's single Steal My Sunshine was released (1999)
July 23rd
24 years ago, on July 23, 1996 - Freak Nasty's single Da Dip was released.
There were certainly other, more memorable pop culture moments on various July 23rds, but I really wanted an excuse to do a deep dive into the force majeure that is one Freak Nasty. (Note: My spell check tried to correct "majeure" into "manure." Leave your opinions on Da Dip to yourself, spell check. I think it's glorious.)

The deep dive proved disappointing. It seems Freak Nasty followed a very traditional path: Grew up in New Orleans, got signed by Cash Money Records, put out an album, was a one-hit wonder. That's the biography of like 17 different hip-hop artists from the late '90s. (Where have you gone, Silkk the Shocker? A nation turns its lonely eyes to you.)

That said, Freak Nasty's one hit was the fantastic Da Dip, a stalwart of the '90s "booty dance" genre that must be included on any comprehensive collection of '90s booty dance songs, perhaps slotted in between Rump Shaker and Dazzey Duks.
Also on July 23rd: Commodore introduced the Amiga personal computer (1985)… Color Me Badd's album CMB was released (1991)… Poetic Justice hit theaters (1993)… Kerri Strug famously landed a vault with a broken ankle at the summer Olympics (1996)… the live action Inspector Gadget hit theaters (1999)
---
Everything old is new again
A look at the reboots, revivals, throwbacks, retro insights, and nostalgia in the news.
Lego and Nintendo teamed up for a 2,646-piece Lego set where you build a Nintendo and an old-fashioned TV featuring Super Mario Bros. It goes on sale August 1st for $230.

A sealed copy of Super Mario Bros. sold at auction for $114,000, a new record for a single game.

A new Dirty Dancing movie, set in the '90s and starring Jennifer Grey, is reportedly in the works.

The house from The Golden Girls is for sale. It's in the Brentwood area of Los Angeles and is listed for $3 million.

Alanis Morissette says she never bothered to make the lyrics to Ironic ironic because "People would up liking the melody, and I wasn't that precious about [the lyrics]. And I came to realize later that perhaps I should have been."

A reboot of Home Alone for Disney+ has added Kenan Thompson, Chris Parnell, and Ally Maki to the cast.

Banksy pays tribute to Chumbawamba's Tubthumping in his new graffiti art. "I get lockdown, but I get up again."

Someone made a Kinect mod to turn Super Mario 64 into an active game. He plays on a trampoline to do Mario's jumps, running, spins, and more.

Wang Chung speaks on rewriting their songs for modern times. E.g., Everybody Stay Safe Tonight. Really.

Wu-Tang Clan is now on Cameo. It's $360 for a message from one member.

Andrew McCarthy has signed a deal to write a memoir called Brat: An '80s Story.

Joanna Cole, author of The Magic School Bus series, has passed away at age 75.
---
Throwbacks and recommendations
---
Thanks for reading!
-Sam