July 31: Game Boy, Apple Newton, Perfect Strangers
Plus Punch-Out!! with Mr. Dream, Risky Business, Pac-Man Monopoly, and more
---
The Retro by 11 Points
Modern perspectives on '80s and '90s nostalgia
July 31, 2020 • Issue 6
---
🎂 Monday is my birthday. Please share this newsletter!
---
This week in nostalgic history
July 31st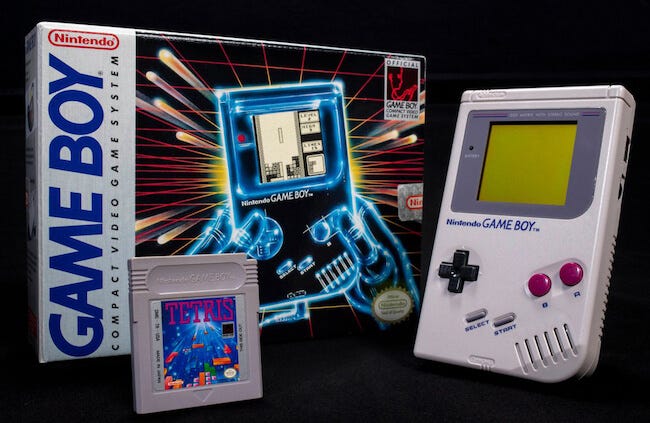 31 years ago, on July 31st, 1989 - Nintendo's Game Boy was released in the U.S.
It's hard to understate just how smart it was for Nintendo to release the Game Boy when they did. The Nintendo Entertainment System had taken over the world just a few years earlier. By 1989, there was a NES in every house, pot-chicken style. So rather than try to introduce a new home platform system, Nintendo made the wise choice to body snatch people when they were outside the house, too.

The technology simply wasn't there for full color graphics in a handheld, so they went with a green-ish, gray-ish monochrome screen — choosing to rest their sales proposition on the novelty of the mobile experience and quality of the games. Still, the graphics were an enormous step up from the other mobile gaming options of the time; before the Game Boy, the only primary mobile options were Tiger handheld games that barely even qualified as video games.

Nintendo's plan worked remarkably well. The Game Boy was an instant hit and became a cultural icon, selling more than 118 million systems worldwide, and created the mobile gaming arm of Nintendo that would go strong until… well… it's kinda still going strong. Although, with the rise of mobile phones and Nintendo's kicking and screaming development of games for those phones, and the Nintendo Switch serving as both a home and mobile console, the standalone mobile console era may be done. Hell of a legacy, though, for the past three decades.
Also on July 31st: The U.S. men's gymnastics team won gold at the Olympics (1984)… Buffy the Vampire Slayer hit theaters (1992)… Whoomp! There It Is by Tag Team peaked at #2 (1993)… Baseketball hit theaters (1998)
August 1st
24 years ago, on August 1st, 1996 - MTV2 launched.
Sure, MTV launched on August 1st — August 1st, 1981 to be exact — but the original MTV launch has been covered to death. Video Killed the Radio Star was the first video MTV played. I'm yawning as I become the record-breaking nine millionth writer to type that sentence.

So instead, I thought I'd write about MTV2, which also launched on an August 1st — 15 years to the day after MTV original and to much less fanfare. MTV2 was a response to MTV's gradual shift away from playing music videos and toward other content; MTV2 was intended to play only videos.

That did not last. In fact, nothing has ever really lasted as MTV2's identity — instead, it's this nebulous, malleable sandbox for MTV to try different things. It started by playing music videos 24 hours a day. Within three years (in 1999), it was rebranded as M2, and focused on playing more obscure music videos. One year after that (in 2000), it started separating its videos into genre time blocks. Two years after that (in 2002), they started airing specials and non-music video programs. Two years after that (in 2004), it was barely showing music videos and was just replaying MTV's shows. One year after that (in 2005), it rebranded back to MTV2 and went back to playing lots of videos. One year after that (in 2006), it was back to rerunning MTV's shows and getting away from music videos. One year after that (in 2007), it tried going heavier on music videos again. Two years after that (in 2009), it only played music videos between 3 AM and 8 AM and even introduced syndicated shows from other networks. Two years after that (in 2011), it started featuring original shows aimed at the young male demographic. And it kinda stayed there for a while, at least until 2017, when it went back to just showing reruns and some music videos.
Also on August 1st: Howard the Duck hit theaters (1986)… Mike Tyson became undisputed heavyweight boxing champion for the first time (1987)… the first Air Bud movie was released (1997)
August 2nd
30 years ago, on August 2nd, 1990 - A revised version of Punch-Out!!, with the titular Mike Tyson replaced by Mr. Dream, was released for NES.
Mike Tyson's Punch-Out!! is among the best-known sports video games of all time (possibly behind only the nebulous "Madden"). Some of that was certainly timing: It hit at a moment when the Nintendo was starting its meteoric rise and featured really entertaining and accessible gameplay along with a host of delightfully stereotypical international fighters. But some, yes, was attributable to Mike Tyson himself. His fame tragectory paralled Nintendo's and his presence elevated the game significantly. (Nintendo, during their Midas touch era, signed him to be the face of the game at a discount price as he was just starting to rise through the boxing ranks, before he became a champion and household name.)

There's a popular theory that Nintendo removed him from the game over his arrest and prison conviction, however — that was still a few years away. The truth is less principled: They removed him when his three-year endorsement contract expired and his renewal price was astronomically high. So Punch-Out!! was re-released, and Tyson was replaced by a white guy with his exact body and boxing moves called Mr. Dream. Somehow, even in 8-bit pixelation, Mr. Dream lacked the fighting charisma so endemic to Tyson's ascent to stardom. To the best of my knowledge, Mr. Dream hasn't ever appeared in a video game since — kind of a crazy feat since Nintendo has printed billions of dollars by repurposing every character in their stable with even a modicum of cache.
Also on August 2nd: Weird Science hit theaters (1985)… Parenthood hit theaters (1989)… Lamb Chop's Shari Lewis died (1998)
August 3rd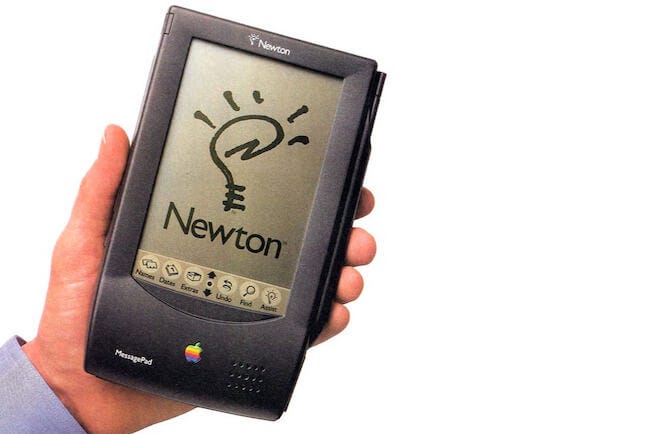 27 years ago, on August 3, 1993 - Apple's Newton handheld was released.
The iPad certainly wasn't Apple's first foray into tablet computing — that distinction belongs to the Newton. The Newton was an early entry into the personal digital assistant game (one that would be dominated eventually by Palm and then fall off a damn cliff). The Newton, to its credit, aspired to be innovative; its killer differentiator was its claim to be the first PDA to feature handwriting recognition.

Unfortunately for Newton… its handwriting recognition was poor to quite poor. And its price was, as you might expect from Apple, high to quite high. So the Newton retains, to this day, a guaranteed spot on all lists of "biggest tech flops ever." It's usually nestled snugly in between things like Betamax and Friendster.
Also on August 3rd: Mary Lou Retton became the first American woman to win the all-around gymnastics gold medal (1984)… Young Guns II, Mo Better Blues, and Duck Tales hit theaters (1990)… Iron Giant hit theaters (1999)
August 4th
27 years ago, on August 4th, 1993 - In a famous baseball fight, Nolan Ryan put Robin Ventura in a headlock.
There are a handful of mound charges in baseball history that stand out; this is among the most famous. Nolan Ryan, approximately 175 years old at this point and in the second-to-last month of his 27th and final major league season, was pitching for the Texas Rangers. One of his pitches hit Robin Ventura, at the time a young, up-and-coming third baseman for the Chicago White Sox — just a few innings after Ventura had singled and driven in a run against Ryan.

So the 26-year-old Ventura charged at the 46-year-old Ryan on the mound — and immediately learned a lesson about Old Man Strength. (Not a myth.) Ryan snatched a textbook headlock and rained down punches onto Ventura's hapless head before other players sprinted up and intervened.

The fight was a final Paul Bunyan addendum to Nolan Ryan's Hall of Fame career. It's also the rare baseball fight where there was so clearly a winner the umpires more or less just shrugged and didn't even throw Ryan out of the game.
Also on August 4th: Gin Blossoms' album New Miserable Experience was released (1992)… Babe hit theaters (1995)
August 5th
37 years ago, on August 5th, 1983 - Risky Business premiered in theaters nationwide.
Risky Business is one of those movies that few people under 40 today have seen, but most know from its iconic scenes: Tom Cruise sliding into his living room and dancing in his underwear and a button-down shirt to Old Time Rock and Roll, Tom Cruise in Ray-Bans, the movie that vaulted Phil Collins' In the Air Tonight to fame.

So, from empirical anecdotal evidence, people are often surprised when they find out what the movie's really about: Tom Cruise, a teenager left home alone by his parents when they go on a trip, meets a prostitute played by Rebecca De Mornay and works with her to turn his house into a makeshift brothel (all while an interviewer for Princeton is coming to interview Tom Cruise). Then Tom Cruise and Rebecca De Mornay have sex on the Chicago "L" while In the Air Tonight plays. And the whole thing was widely critically acclaimed and considered an heir to The Graduate.

In other words, it's nothing like what you expect and probably worth watching to find out what it's really all about.
Also on August 5th: Clear and Present Danger and Airheads both hit theaters (1994)… Whose Line Is It Anyway? premiered (1998)
August 6th
27 years ago, on August 6th, 1993 - The series finale of Perfect Strangers aired on ABC.
Perfect Strangers was the original cornerstone of ABC's TGIF lineup; a '90s update of The Odd Couple (or maybe, more accurately, Mork & Mindy) that managed to juuuust come out on the sunny side of the funny:annoying ratio.

By its eighth season in 1993, however, TGIF had passed it by. The anchor of TGIF was now Family Matters — a spin-off of Perfect Strangers — and it was joined by popular shows like Step by Step and Dinosaurs. (Full House was gone by this point; Boy Meets World and Hangin' with Mr. Cooper were about to show up.) The TGIF shows, in other words, were skewing younger and Perfect Strangers was getting long in the tooth.

Season eight was only six episodes long, running for six consecutive weeks in the summer of 1993. In a nice nod to its history, the finale did get to air on a Friday night — however, again, during the beleaguered summer TV season.
Also on August 6th: Yo! MTV Raps premiered (1988)… The Fugitive hit theaters (1993)… The Offspring's Come Out and Play peaked at #38 on the Billboard chart (1994)… The Sixth Sense and Mystery Men both hit theaters (1999)
---
Everything old is new again
A look at the reboots, revivals, throwbacks, retro insights, and nostalgia in the news.
---
Throwbacks and recommendations
---
Thanks for reading!
-Sam