June 26: Coming to America, the first PG-13 rating, Dan & Dave, Harry Potter
Plus Seinfeld LEGOs, a Family Matters star plays James Brown, and more
---
The Retro by 11 Points
Modern perspectives on '80s and '90s nostalgia
June 26, 2020 • Issue 1
---
⚠️ Enjoying The Retro? Or, since you haven't read it yet, enjoying The Retro as a concept?
At 5,000 subscribers, this newsletter will go DAILY.
Please spread the word to one or two friends who'd love it to help move that goal ahead!
---
This week in nostalgic history
June 26th
23 years ago, on June 26th, 1997 - Harry Potter and the Philosopher's Stone was published in the U.K.
J.K. Rowling's recent foray into legacy self-immolation aside, the saga behind Harry Potter is certainly a captivating and inspiring one. Rowling, a single mother and workaday muggle, spent nearly a decade writing the first book — after which it was summarily rejected by dozens of publishers. When one publisher finally showed interest, Rowling made compromises, like shortening the book's length, accepting a mere $3,000 advance, and even agreeing to go by J.K. instead of Jo or Joanne because the publisher thought a female author would hurt the book's appeal to boys.

The rest, of course, is a snowball effect into a one-in-a-trillion success story. The book captivated children in the U.K. and won a number of awards, spread to the U.S. (with a condescending title change to make the book sound less educational to American children) a year later, and launched a multi-billion-dollar franchise. It's hard to imagine another book series being able to rise so high in this era — there are exponentially more books published on a daily basis than there were in 1997, and all forms of media are becoming more niche and less targeted at mass appeal.

Semi-related plug: I once wrote 11 Amazing Fake Harry Potter Books Written in China and it's still one of my favorites from my website.
Also on June 26th: Spaceballs hit theaters (1987)… The Real World, season 2 (Los Angeles) premiered on MTV (1993)… Allen Iverson was the 1st pick in the 1996 NBA Draft, Kobe was 13th (1996)… Step by Step aired its series finale (1998)… Doug aired its series finale (1999).
June 27th
28 years ago, on June 27, 1992 - Dan O'Brien failed to make the U.S. Olympic team, famously destroying a $30 million, eight-month marketing campaign by Reebok.
In the lead up to the 1992 Summer Olympics in Barcelona, Reebok built a massive ad campaign around two U.S. decathletes: Dan O'Brien and Dave Johnson. The first "Dan & Dave" ad aired during the Super Bowl and the campaign continued through the subsequent months. O'Brien and Johnson were both projected to win medals at the Olympics, but which would win the gold? That was the heart of the question posed by Reebok: "Who will be the world's greatest athlete — Dan or Dave?"

Five weeks before the Olympics began, however, O'Brien blew his pole vault at the U.S. Olympic trials — and failed to qualify for the team. Johnson would still go to the Olympics, where he'd ultimately suffer a foot injury and win the bronze.

The ad campaign remains a cautionary tale for companies around the Olympics. While they certainly capitalize on the widespread (if, often, fleeting) fame and popularity of successful Olympic athletes, they now wait until that success is affirmed. And, best I could find, there's never been a promotion around decathletes since.

Reebok did manage to find itself involved in a major Olympic storyline that year, however — albeit another infamous one. Reebok made the jackets that U.S. athletes wore on the medal stand — and when the Dream Team accepted their gold, many of the Nike-sponsored athletes, including Michael Jordan, draped flags over their shoulders to hide the Reebok logo.
Also on June 27th: The company Atari was incorporated (1972)… Labyrinth hit theaters (1986)… Mike Tyson quickly KO'd Michael Spinks (1988)… Anna Nicole Smith married an 89-year-old billionaire (1994)… a movie that was even ridiculous by '90s standards, Face Off, hit theaters (1997).
June 28th
23 years ago, on June 28, 1997 - Mike Tyson bit Evander Holyfield's ear.
It feels like ancient history in some ways, but not all that long ago, boxing was a huge deal. When I was a kid with a Sports Illustrated subscription, every six-to-eight weeks or so the cover of the magazine would feature boxing. It was a massively popular sport, driven by the mix of artistry and brutality, plus a long line of outsized personalities.

It's hard to pinpoint the moment when boxing's fall from prominence began, but this might be it. As Mike Tyson bit Evander Holyfield's ear in the third round of their championship match, modern boxing finally crossed the tipping point into total farce — and never recovered. (Especially not as the footsteps of mixed martial arts were becoming louder and louder.)
Also on June 28th: St. Elmo's Fire hit theaters (1985)… Naked Gun 2½ hit theaters (1991)… the original Dream Team played its first game, an exhibition against Cuba (1992)… The Nutty Professor and Demi Moore's Striptease both hit theaters (1996).
June 29th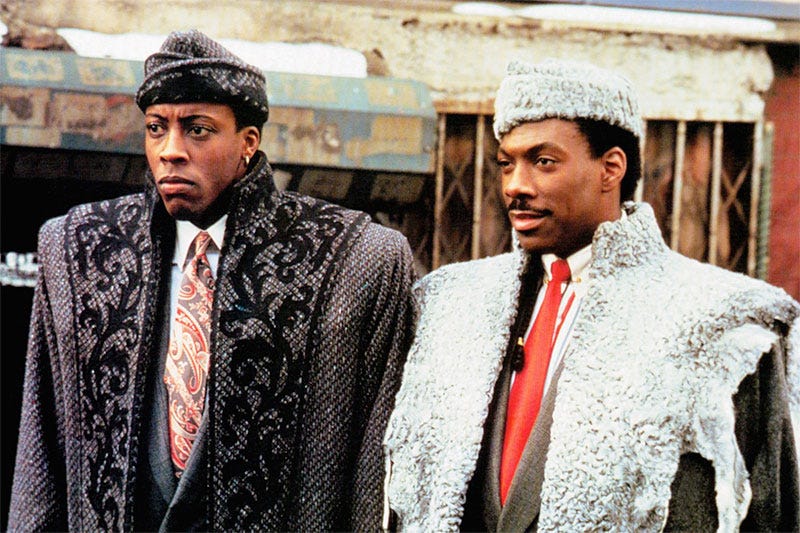 32 years ago, on June 29, 1988 - Eddie Murphy's Coming to America hit theaters.
Every huge comedy movie star seemingly arrives at the point where Murphy was in 1988: Where they have too much power. Coming to America was the first of the "Murphy in full control" movies — he created the story, bigfooted the director, and even began his new signature move of playing multiple characters in one movie.

The results aren't guaranteed to be bad when a comedy star becomes too strong. Coming to America is beloved for a reason. Will Ferrell nailed Talladega Nights. Mike Myers was great with Austin Powers. Some might even say Rob Schneider… um… maximized his potential in Deuce Bigalow: Male Gigolo. However, the success is often unsustainable; filmatic comedy is a collaboration and requires the star to listen to credible voices to separate "that's really funny" from "you're super famous so people laugh, but that's not really that funny."
Also on June 29th: Days of Thunder hit theaters (1990)… Real McCoy's single Come and Get Your Love was released (1995)… the Canadian Football League came to America as the Memphis Mad Dogs played their first game (1995)… Santana's Smooth and LFO's Summer Girls were both released 1999.
June 30th
21 years ago, on June 30, 1999 - Wild Wild West hit theaters.
I bring up Wild Wild West not because it was an especially significant movie in the stacked movie summer of 1999. I bring it up because Wild Wild West's high-profile box office failure ended what should've been a tradition for decades to come: Will Smith releasing a companion rap song to his movies.

Instead, we had to wait on Kid Cudi to release a song called The Pursuit of Happiness. And he didn't even spell it "Happyness."
Also on June 30th: Willy Wonka & the Chocolate Factory hit theaters (1971)… Steve Winwood's single Back in the High Life was released (1986)… Canada unveiled the loonie (1987)… Do the Right Thing and Karate Kid III hit theaters (1989)… Boyz II Men's single End of the Road was released (1992)… Chris Webber was the #1 pick in the NBA Draft (1993)… Apollo 13 hit theaters (1995)… Leap Second (1997).
July 1st
38 years ago, on July 1, 1984 - The PG-13 movie rating was officially introduced.
As movies in the early '80s began to push the boundaries of what counted as "PG" — notably, movies like Indiana Jones and the Temple of Doom, Poltergeist, Sixteen Candles, and Gremlins — it became clear that the movie rating system needed an intermediate step between PG and R. Somehow, the notoriously rigid bureaucracy behind movie ratings actually managed to come up with an answer: PG-13.

The rating itself was announced on July 1st, 1984. The first PG-13 movie would be Red Dawn — which, if you're somehow not familiar, features a diverse cornucopia of communists invading Colorado — when it came out just over one month later.
Also on July 1st: The Susan B. Anthony dollar was released (1979)… the Sony Walkman debuted (1979)… Cal Ripken began his record-breaking consecutive games streak (1982)… A&E separated from Nickelodeon as Nick-at-Night began (1985)… Kid Icarus was released for the NES (1987)… Heavy D's single Now That We Found Love was released (1991)… A League of Their Own hit theaters (1992)… Armageddon hit theaters (1998).
July 2nd
27 years ago, on July 2nd, 1993 - Pauly Shore's Son-in-Law was released.
Did someone say something earlier about mixed results when comedy stars get too much power?
Also on July 2nd: Steffi Graf won at Wimbledon, breaking Martina Navratilova's six-year streak (1988)… Boyz n the Hood hit theaters (1991)… Axl Rose started a riot when he jumped off stage at a concert in St. Louis to attack a fan (1991)… The Firm hit theaters (1993)… Men in Black hit theaters (1997)… OpenTable was founded (1998)… the original version of Napster officially shut down (2001).
---
Everything old is new again
A look at the reboots, revivals, throwbacks, retro insights, and nostalgia in the news.
---
Throwbacks and recommendations
---
Thanks for reading!
-Sam