June 5th: The Goonies, Donkey Kong, Jurassic Park
Plus Kiss from a Rose, a new Sega mini, 25 TV series fans want rebooted, and more
---
The Retro • June 5, 2020 • Issue -2
---
⚠️ Enjoying The Retro?
At 5,000 subscribers, this newsletter will go DAILY.
Please spread the word to one or two friends who'd love it to help move that goal ahead!
---
This week in nostalgic history…
June 5th
30 years ago, on June 5, 1990 - New Kids on the Block's album Step by Step was released.
The follow-up studio album to New Kids on the Block's world-dominating Hangin' Tough (not counting their Christmas album in between), this album featured more input from the group members — including them playing instruments for many of the songs.

While the album would draft off the success of Hangin' Tough and go multi-platinum, it would not reach the heights of the prior effort. They wouldn't release another album until 1994, shortly after which the group would disband.
Also on June 5th: Harry and the Hendersons hit theaters (1987)… the SkyDome in Toronto hosted its first Blue Jays game (1989)… Michael Jordan switched hands on a layup in the NBA Finals for one of his most iconic moments (1991)… Patriot Games and Class Act both hit theaters (1992)… Shaggy's single Boombastic was released (1995)… Reese Witherspoon married her Cruel Intentions co-star Ryan Philippe (1999).
June 6th
25 years ago, on June 6 1995 - Seal's single Kiss from a Rose was released.
The single was originally released in the U.K. a year prior but, after failing to gain real traction, it was re-released in North America in 1995 as part of the soundtrack to Batman Forever. (That's the Val Kilmer Batman.) Somehow, that made the difference, and the song was a massive hit.

Seal now says he originally wrote the song in 1987, long before he'd attained any success as a musician, and was embarrassed by it. Possibly because "Kiss from a rose on the gray" really doesn't mean anything. Seal has tried to explain it away by saying, "I think it's the general vibe of what I'm saying that is important and not the exact literal translation. The song is always larger in the listener's mind because with it they attach imagery which is relative to their own personal experience." Translation: Random words strung together that sounded good to him.
Also on June 6th: Tetris was released in the USSR (1984)… Kevin McHale of the Boston Celtics nearly decapitated Kurt Rambis of the L.A. Lakers with a clothesline during a game (1984)… a judge in Florida rules 2 Live Crew's album was obscene and therefore illegal to sell… Con Air hit theaters (1997)… Sex and the City debuted on HBO (1998)… the Anaheim Angels debuted the Rally Monkey, which would feature prominently in their run to the World Series championship a few years later (2000)… 2 Fast 2 Furious hit theaters (2003).
June 7th
35 years ago, on June 7th, 1985 - The Goonies hit theaters.
One of the most iconic movies of the 1980s, The Goonies somehow managed to be both a commercial sensation at the time and a cult hit today. The movie grossed $124 million — a huge result in the '80s — and continues to resonate with new viewers today. Also, it's the undisputed spiritual ancestor of Stranger Things.

The movie never received a sequel, although, oddly enough, its video game did. The Goonies II was the only Goonies game for the Nintendo Entertainment System and was only loosely tied to the original movie.
Also on June 7th: Sony introduced Betamax (1975)… Graceland opened to the public (1982)… City Slickers, Jungle Fever, and Don't Tell Mom the Babysitter's Dead all hit theaters (1991)… Prince changed his name to a symbol (1993)… The Rock hit theaters (the Sean Connery/Nic Cage movie, not the wrestler) (1996)… Mark Morrison's one hit, Return of the Mack, peaked at #2 on the Billboard charts… Keyboard Cat debuted on the Internet (2007).
June 8th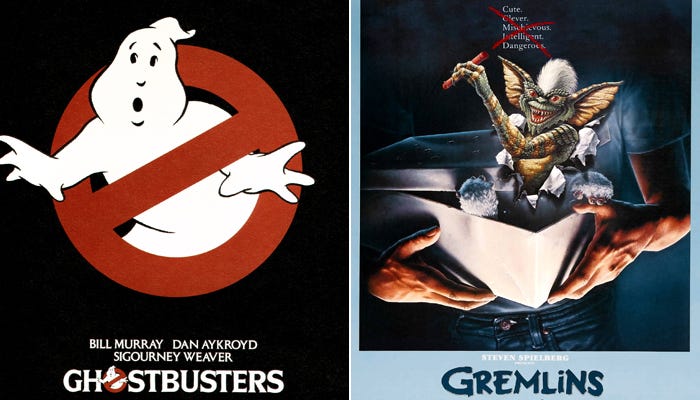 36 years ago, on June 8th, 1984 - Both Ghostbusters and Gremlins hit theaters.
When summer blockbusters debut on the same day, usually you'd think they'd target different audiences. On this day in 1984, two movies with an incredible amount of demographic overlap both hit theaters. Their first week numbers were also extremely close: Ghostbusters did $13.6 million, Gremlins did $12.5 million.

Now, with the perspective of three-plus decades, we know Ghostbusters was ultimately the more enduring pop culture entity… but for a good chunk of the '80s, the Gremlins were also incredibly popular.
Also on June 8th: The New Orleans Jazz moved to Utah and inexplicably kept the name "Jazz" (1979)… Blind Melon's single No Rain was released (1993)… 98 Degrees' single The Hardest Thing and the Goo Goo Dolls' single Black Balloon were both released (1999).
June 9th
39 years ago, on June 9th, 1981 - Donkey Kong hit arcades.
It's hard to pick the top arcade game of all time (games like Space Invaders, Asteroids, Frogger, and Pac-Man all spring to mind), but Donkey Kong might have a claim to number one. While it was only the third-highest grossing arcade game of the golden age of arcades (behind Pac-Man and Space Invaders), it is the only one that's spawned a theatrical documentary and multiple lawsuits over high scores.

The character of Donkey Kong (along with his sworn enemy, eventually known as Mario), are, of course, still prominent video game characters to this day. Even Donkey Kong's Ann Darrow, a character named Pauline, has now found her way into some of Nintendo's video game offerings.
Also on June 9th: Magic Johnson hit a sky hook to lift the L.A. Lakers over the Boston Celtics in Game 4 of the NBA Finals (1987)… the NHL's Minnesota North Stars left the hockey hotbed of Minnesota to relocate to Dallas (1993)… TLC's Lisa "Left Eye" Lopes set fire to her boyfriend, NFL star Andre Rison's, house (1994)… Married With Children aired its series finale on FOX (1997)… Pras's solo single Ghetto Superstar was released (1998).
June 10th
26 years ago, on June 10, 1994 - Speed hit theaters.
The physics defying but utterly captivating movie Speed remains a standout '90s action film to this day. It really launched the career of Sandra Bullock (and, arguably, Keanu Reeves as a bankable action star, with all due respect to Point Break before it).

I mostly remember going to see it in a theater. We'd planned to watch Speed and then sneak into another movie, but my friend Andrew deciding it'd be funny to drop a stink bomb at the end of the movie, so we had to run out of the theater. That being the pre-cell phone era, we had no way of calling his mom for a ride home, so we walked roughly six miles back to his house. At, ironically, a not particularly speedy pace.
Also on June 10th: Octopussy and Trading Places both hit theaters (1983)… Tales from the Crypt premiered (1989)… the Damn Yankees single High Enough was released (1990)… Twin Peaks aired its series finale (1991)… City Slickers II: The Search for Curly's Gold hit theaters (1994)… the Backstreet Boys single Quit Playing Games was rleased (1997).
June 11th
27 years ago, on June 11th, 1993 - Jurassic Park hit theaters.
The most amazing thing about watching Jurassic Park today is just how well the dinosaurs hold up from a visual standpoint. Yes, the movie's still enjoyable and yes, there's a strong nostalgia around it — but it's incredible how well they pulled off the visual effects of the dinosaurs. There are plenty of movies that came before the modern visual effects era that just don't hold up. (The Mummy Returns in 2001 is the gold standard of that dubious distinction.) The dinosaurs in Jurassic Park are still as lifelike and realistic today as they were in 1993.
Also on June 11th: E.T. hit theaters (1982)… Ferris Bueller's Day Off hit theaters (1986)… Hulk Hogan signed with WCW on live TV (1994)… Michael Jordan won the "flu game" against the Utah Jazz in the NBA Finals (1997)… Austin Powers 2: The Spy Who Shagged Me hit theaters (1999)… American Idol debuted on FOX (2002)… Napoleon Dynamite hit theaters (2004)… I launched my website, 11 Points (2008).
---
Everything old is new again…
---
Thanks for reading! This newsletter officially debuts next week, hope to see you there.
-Sam