---
The Retro by 11 Points
Modern perspectives on '80s and '90s nostalgia
September 4, 2020 • Issue 11
---
⚠️ Please spread the word! The faster this grows, the faster we can all fulfill our lifelong dream of eating the world's biggest hoagie.
---
This week in nostalgic history
September 4th
25 years ago, on September 4th, 1995 - WCW Monday Nitro premiered on TNT.
Vince McMahon and the WWF/WWE have always done everything in their power to stomp out any competition — from raiding and driving local territories out of business in their late '70s/early '80s national expansion to essentially blackmailing pay-per-view carriers to pick them over WCW to, even today, producing a third weekly cable show with the sole purpose of eating into the growth of a new, deep-pocketed competitor on another network.

So it's almost poetic that McMahon and the WWF hit their greatest peak only when they had some competition in earnest. That competition came in the form of WCW Monday Nitro — an all-out and unabashed effort to siphon away the WWF's Monday Night Raw audience. Nitro offered better money for less work than McMahon which drew the biggest name stars, it ran live every week (in contrast to Raw), and while it wasn't perfect, it was a fresh vision of professional wrestling while McMahon's had grown stale.

WCW's "live fast, mismanage hard" philosophy was, however, unsustainable in the long run. As WWF met the challenge and hit its creative and popularity peak in the face of strong competition, WCW struggled. It was eventually sold to McMahon in 2001 when new Turner TV executives wanted nothing to do with the floundering, déclassé rasslin' show getting in the way of their highbrow prestige cable network vision.

Note: I published a deep dive today on the first episode of Nitro on 11 Points: 11 Thoughts on the Debut of WCW Monday Nitro
Also on September 4th: Jim Abbott, the pitcher who was born without a right hand, threw a no-hitter; the team he threw it against isn't important (1993)… the NFL saw its first two-point conversion (1994)… season six of The Simpsons began with the classic episode Bart of Darkness (1994)… Xena: Warrior Princess debuted (1995)… Google was incorporated (1998)
September 5th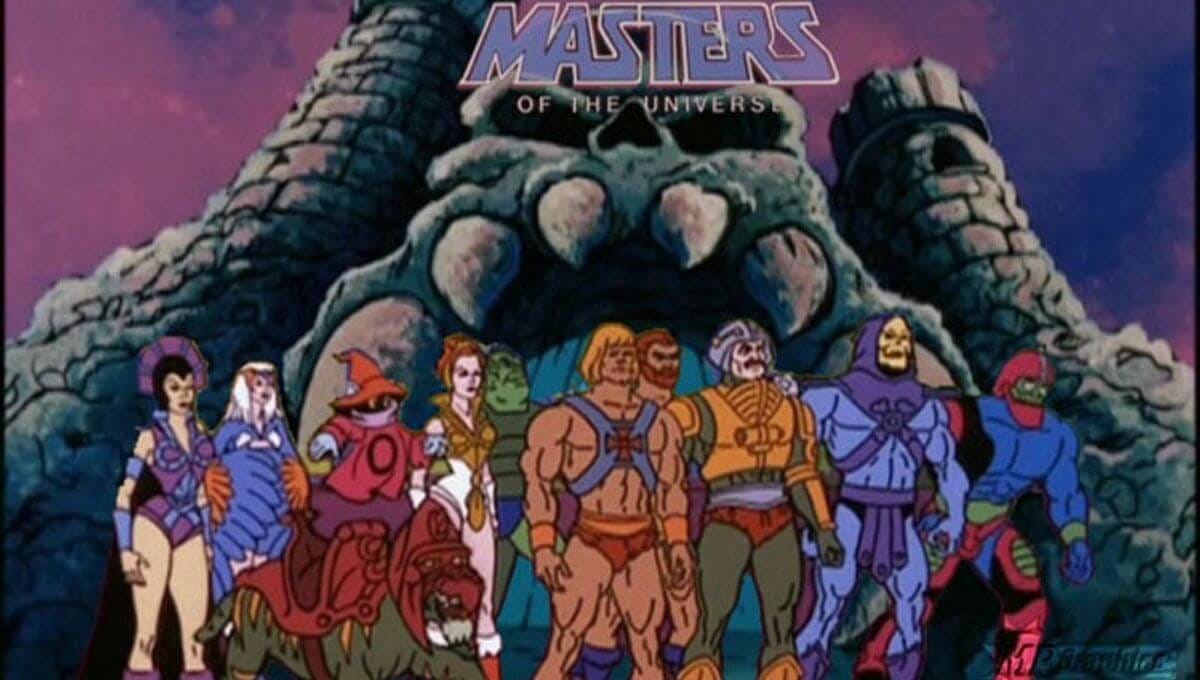 37 years ago, on September 5th, 1983 - He-Man and the Masters of the Universe premiered.
I deconstructed He-Man on my website once upon a time many years ago (11 Disappointments About He-Man, In Retrospect), but two truths still remain just as inexplicable to me as they were back then. One, that a cartoon series created by a toy company with the expressed and exclusive goal of selling toys made it on air; and two, that the show became a runaway hit so beloved that you'd be hard-pressed today to find anyone in the U.S. who hadn't heard of He-Man.

So… why? What was it about He-Man that worked? The media landscape of 1983 certainly helped; it's doubtful He-Man or, really, any show could rise to such heights in today's marketplace. The cartoon itself was also a stark change from the Tom & Jerry type offerings on television; He-Man wasn't just the first cartoon based on a toy line, it was the first with a torso-showing muscular superhero and the first with any combat-style action. Also, the toy integration really helped the cause — not only did the show drive kids to the toys, the great toys also drove kids to the show in a virtuous marketing circle.

He-Man's initial run was only two seasons (as a syndicated show, that meant 65 episodes per season), but the impact it made in its mere two years on the air is undeniable. It's been adapted, rebooted, spun-off, and cross-mediumized (?) more than a dozen times — with *two* new reboots currently in production for Netflix today.
Also on September 5th: The Muppets premiered (1976)… the children's game show Fun House premiered (1988)… MC Hammer's single 2 Legit 2 Quit was released (1991)
September 6th
25 years ago, on September 6th, 1995 - Cal Ripken Jr. broke Lou Gehrig's record for consecutive games played.
There are only a handful of unbreakable sports records. There are the ones that happened when the game was so different they could never be broken in the modern game (think: Wilt Chamberlain averaging 50.4 points-per-game for an entire NBA season, or Charles "Old Hoss" Radbourn getting 59 wins as a pitcher in the 1884 MLB season). Then there are the longevity streaks which require a Powerball odds-level mix of top talent, career length, and more than a little luck.

Cal Ripken breaking Lou Gehrig's consecutive games record of 2,130 straight games fell into the latter category. For that reason, it remains one of the only "unbreakable" records that's been broken in the past several decades. But you never know — maybe humans will evolve new arms that can handle throwing 100+ pitches at 100+ miles-per-hour for 100+ games in a season. And then, Old Hoss, we're coming for you.
Also on September 6th: Benny Mardones's one hit, Into the Night, peaked at number 11 (1980)… Brandy's debut single I Wanna Be Down was released (1994)… 4PM's single Sukiyaki was released (1994)… Bulletproof hit theaters (1996)… Princess Diana's funeral was held (1997)
September 7th
24 years ago, on September 7th, 1996 - Tupac Shakur was shot and killed.
While conspiracy theories abound to this day, the Occam's razor of Tupac's murder comes down to tragic eye-for-an-eye gang violence. Earlier on the night of September 7th, 1996, Tupac, Suge Knight, and Suge Knight's Bloods beat up a member of the Crips in Las Vegas. A few hours later, the guy they beat up and three other Crips went looking for revenge, spotted Knight behind the wheel, and shot Tupac in a drive-by.

So why is the murder still unsolved? The Las Vegas powers-that-be certainly had their role, kneecapping the investigation to try to avoid an "O.J.-style circus." The connection to Notorious B.I.G. and the East Coast-West Coast rap feud added fuel to the conspiracy fire; there was just enough of a connection between the parties involved to create a conspiracy snowball. The guy who shot Tupac was killed in 1998 in Compton, Calif., in an unrelated (probably) incident.

But above all else, mythology around the death of prominent entertainers is a tradition that started long before Tupac and has continues long after. Even if the Las Vegas police hadn't botched the investigation, even if Biggie hadn't been murdered as well, even if Tupac's murderer hadn't been killed and instead had confessed and been convicted — the conspiracy theories would still abound that Tupac's hiding out on an island somewhere with Elvis, Andy Kaufman, Kurt Cobain, and Steve Jobs.
Also on September 7th: ESPN debuted (1979)… Small Wonder premiered (1985)… Geraldo premiered (1987)
September 8th
21 years ago, on September 8th, 1999 - Harry Potter & the Prisoner of Azkaban was released.
Harry Potter & the Prisoner of Azkaban came before the turning point in the Harry Potter series — when its water level was "very popular British book series" and not "best-selling book series of all-time." The turning point happened around around the release of this third book; after which, among other things, J.K. Rowling tripled the length of the subsequent books and became Too Big to Edit.

Azkaban is also (in my estimation), a case of the movie working better than the book. Alfonso Cuarón improved on the source material, giving the right amount of focus to the right things, making things like the time travel aspect or absolutely absurd reveal of who (or what) the bad guy was work better than they probably had any right to.
Also on September 8th: Bobby's World premiered (1990)… Herman's Head and Darkwing Duck both premiered (1991)… Arthur and Blue's Clues both premiered (1996)… Ally McBeal premiered (1997)… Mark McGwire hit is record breaking 62nd home run (1998)
September 9th
21 years ago, on September 9th, 1999 - The Sega Dreamcast was released.
The Sega Dreamcast was Sega's final home console, so that more or less tells you how it performed in the market. The console came out before the PlayStation 2, but the PS2 still managed to undercut it at every turn — both literally in its pricing and not-literally by luring all the third-party developers to make games and spending a fortune on marketing.

However, like most of Sega's efforts, while they couldn't compete with the giants of the console industry, the Dreamcast still attained a smaller but loyal legion of fans. There's still quite a bit of hardcore Dreamcast fandom out there; if you doubt that, write an article where you make fun of Dreamcast and duck. I've been there.
Also on September 9th: She-Ra premiered (1985)… American Gladiators premiered (1989)… The Maury Povich Show premiered (1991)… baseball's owners voted to realign and add a wild card to the playoffs (1993)… Pinky and the Brain premiered as a standalone show (1995)… Skee Lo's single I Wish peaked at number 13 (1995)
September 10th
29 years ago, on September 10th, 1991 - Nirvana's single Smells Like Teen Spirit was released.
Sure I could've talked about The New Adventures of He-Man here to put a more symmetrical bow on this edition of the newsletter, but I guess that Smells Like Teen Spirit had a larger cultural impact.
Also on September 10th: Inspector Gadget premiered (1983)… Voltron premiered (1984)… Steffi Graf won the grand slam in tennis (1988)… Deion Sanders made his NFL debut after hitting a home run in an MLB game five days earlier (1989)… The Fresh Prince of Bel-Air premiered (1990)… The New Adventures of He-Man premiered (1990)… Lamb Chop's Play Along premiered (1992)… True Romance hit theaters (1993)… The X-Files premiered (1993)… The Tick premiered (1994)… Everlast's single What It's Like was released (1998)
---
Everything old is new again
A look at the reboots, revivals, throwbacks, retro insights, and nostalgia in the news.
Nintendo will release a nostalgic throwback to their first portable game system, the Game & Watch, for the holidays. It's a small handheld with Super Mario Bros., Super Mario Bros. 2: The Lost Levels, and a game called Ball.

Puma has also released Mario-themed shoes, which were released today. And if I know anything about modern shoe culture, which I don't, they're probably sold out and/or people lined up around the block for them during a pandemic and/or no one cared about these in particular.

The new live-action Mulan is now available on Disney+ for an extra $30 (or included in the subscription price starting December 4th.)

Sylvester Stallone says he's re-releasing Rocky IV with a new cut — that eliminates Paulie's robot.

HBO Max is taping a Fresh Prince of Bel-Air reunion next week.

Erick Morillo, the DJ behind I Like to Move It, passed away at age 49. He was arrested last month.

Fox is developing a "comedic, animated take" on The X-Files.

A Michael Jordan rookie card sold for $420,000 at auction this past week, a record for the card. Interest in Jordan stuff is way up since The Last Dance.

The release date for Scream 5 is now January 14, 2022. Pretty optimistic thinking movie theaters will be open by then.

Rachael Leigh Cook says she'd support a She's All That reboot. I wonder, though, how George Bernard Shaw would feel.

Jon Hamm says he won't do a Chevy Chase impression in the Fletch reboot.
---
Throwbacks and recommendations
---
Thanks for reading!
-Sam